Multi-Sensor Pipe Inspection System
Multi-Sensor Robotic Condition Assessment
PPR
Pipe Penetrating Radar (PPR) is the underground in-pipe application of ground penetrating radar. The PPR pulse travels through a pipe material as a function of its dielectric properties which are in turn a function of the materials' chemical and physical composition. Some of this pulse will also be reflected and refracted by any sharp change in material properties, such as at the interface between pipe material and air or water. The greater the difference in the material properties, the greater the amount of energy reflected back. These reflected waves are detected by a receiving antenna and recorded as a single trace (A-scan). This process is repeated continuously as the antenna is moved along a survey line to build up an entire profile (B-scan) along the survey line.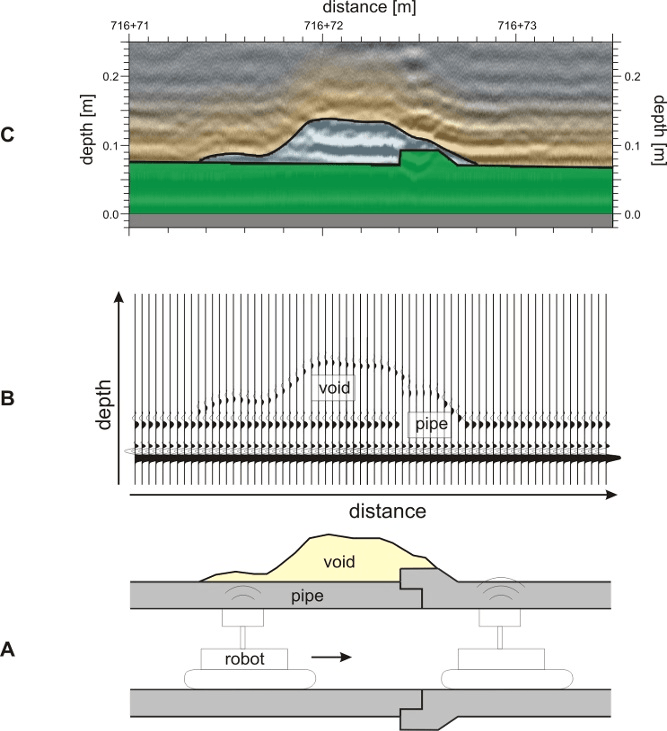 PPR Principle: A: robot mounted antennas continually emitting and recording pulsed PPR signals, B: signals are recorded as a series of A scans making up the corresponding radar "wiggle" trace (B scan), C: interpretation is superimposed on the processed radar plot.
The majority of the current underground pipe infrastructure was built over 50 years ago and is close to the end of its design life. In order to establish the extent of rehabilitation or the timing of replacement an internal inspection method is necessary. Although CCTV is an effective tool for identifying visible defects on the internal wall of pipelines it cannot see behind the pipe's inner surface. In order to overcome this limitation and provide utility owners and decision makers with a quantitative and predictive inspection and asset management tool, pipe penetrating radar (PPR) the in-pipe application of ground penetrating radar (GPR) has been developed. This technology allows the implementation of proactive preventative maintenance procedures for non-ferrous wastewater and water underground infrastructure. The combined application of PPR, CCTV and laser (LIDAR) provides the most complete and state of the art inspection technology to enable proactive asset management and allow utility owners to plan and schedule the inspection and rehabilitation of critical utilities prior to the occurrence of emergency scenarios.
LiDAR
To measure profiles and distances above the flow, SewerVUE uses single or multiple LiDAR scanners to gather point cloud data. Sub-centimetre accurate pipe profile maps are generated that allow SewerVUE to measure crack depth, width, and length to industry leading precision. Combined with sonar profiles below the flow, SewerVUE will generate a 360 degree image of the pipe.
Sonar
For measurements below the flow, SewerVUE Technology deploys industry leading sonar sensors. With sub-centimeter precision, these sensors are capable of determining sediment volume, and profiling the pipe below the flow. When used in conjunction with LiDAR imaging above the flow, SewerVUE will generate a 360 degree image of the pipe including quantitative determination of ovality, wall loss, sediment volume and depth; even through tight bends.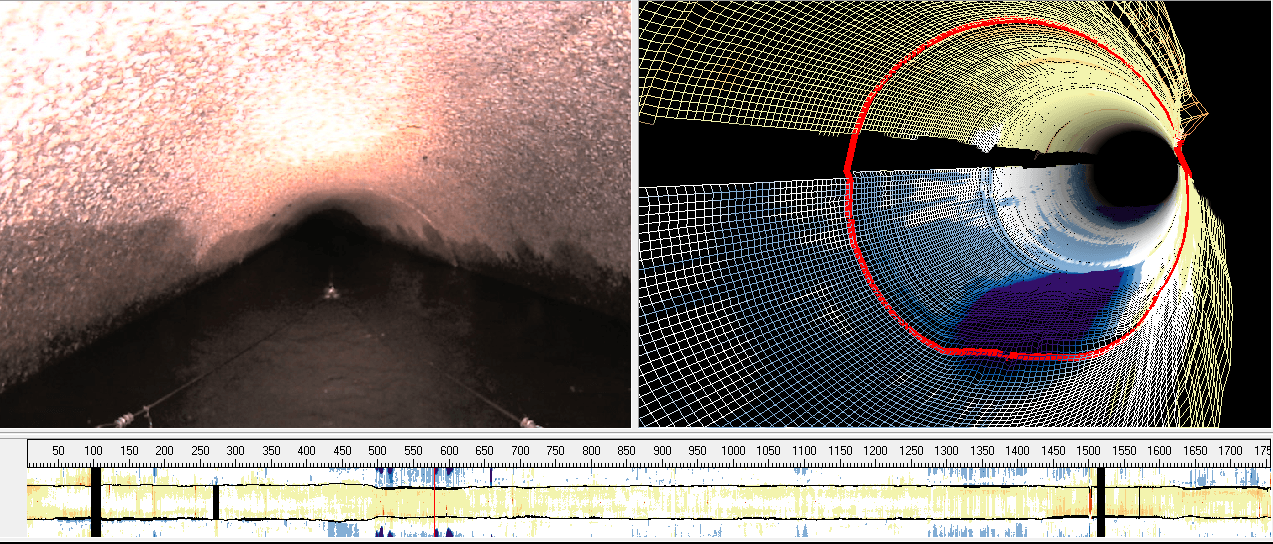 A screen shot from SewerVUE's 4 in 1 viewer, showing the corrosion of an RCP pipe, the sediment profile, and a CCTV Video.