Multi Sensor Inspection System
MSI Case Study
New Developments in Multi-Sensor Advanced Pipe Inspections using LiDAR, Sonar, and CCTV
Gathering detailed, accurate, and useful information about pipeline conditions is a complex task. Traditionally, pipe inspections are done only through CCTV. While CCTV does have its uses, it has many drawbacks compared to more modern MSI technologies. First and foremost, CCTV can only evaluate visually. Visual assessment, while useful, does not help one determine the remaining thickness of the pipe walls, potential voids developing outside the pipe, or rebar cover in reinforced concrete pipes (RCP), for example. To gain more valuable, quantitative information, SewerVUE supplements CCTV with three MSI sensors: Sonar, LiDAR, and Pipe Penetrating Radar (PPR).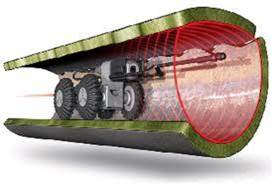 Sonar is the use of sound waves tuned to a specific frequency to "ping" the surroundings, and measure the sound waves being reflected back. The presence of water is necessary for sonar to be effective. Performing a sonar pipe inspection is a well understood, relatively uncomplicated process that gives formative results. A newer development in multi-sensor pipeline inspection is LiDAR, or Light Detection and Ranging. In the context of MSI systems, LiDAR involves projecting a ring of light onto the pipe's interior wall. This ring of light is imaged using a specially-calibrated digital camera. Distances are derived from the resulting image using pixel counting and triangulation. One drawback of LiDAR is that the projected ring of light must be perpendicular to the pipe wall for accurate results. Through a MSI inspection combining CCTV, Sonar, and LiDAR, it is possible to achieve an accurate and informative assessment of the pipeline that's been inspected.
However, SewerVUE Technology also utilizes one other sensor type: our Pipe Penetrating Radar, or PPR. PPR uses high-frequency electromagnetic waves similar to how sonar uses sound waves. The reflected energy of the EM waves is recorded for analysis. PPR allows one to see not just the condition and thickness of the pipe walls, but to determine rebar cover in reinforced concrete pipe, or to detect voids forming on the outside of pipes. SewerVUE's PPR can even be deployed while the pipe is in service.
Cases
#1: Clayton Falls Penstock - Bella Coola, BC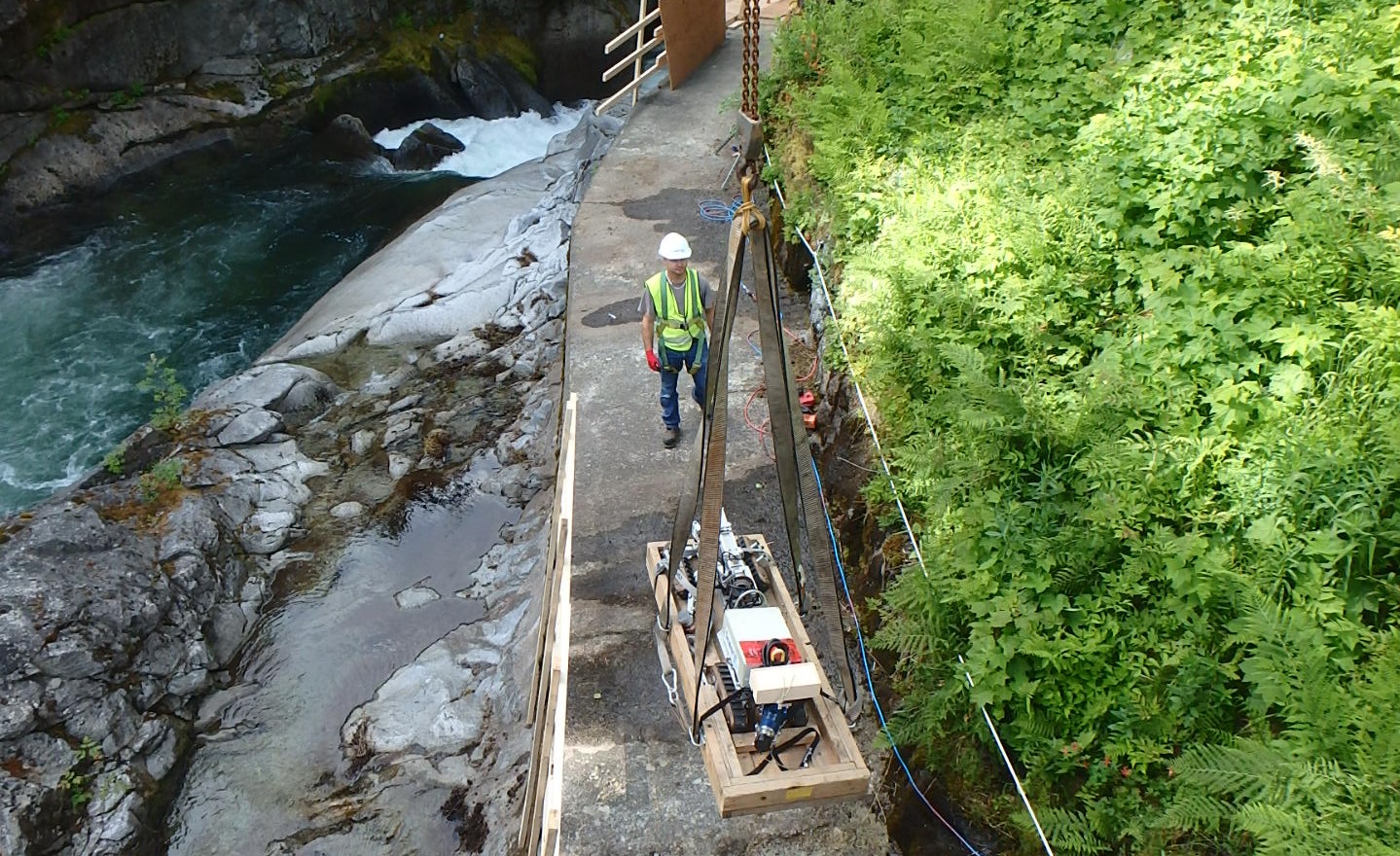 SewerVUE's multi-sensor condition assessment technology was used to assess the Clayton Falls Penstock, located near Bella Coola, British Columbia. This was a 60 year old hydroelectric penstock that had never been inspected previously. The penstock was 560 metres long, and had sections measuring 965mm, 1200mm, and 762mm in diameter. Access to the penstock was somewhat challenging, and the full inspection required usage of 3 different access points. The SewerVUE Surveyor robot was deployed for this task.
In total, 28 defects were recorded and documented. The inspection of the penstock was finished on time, and on budget.
#2: TEES Tunnel - Tolo Harbor, Hong Kong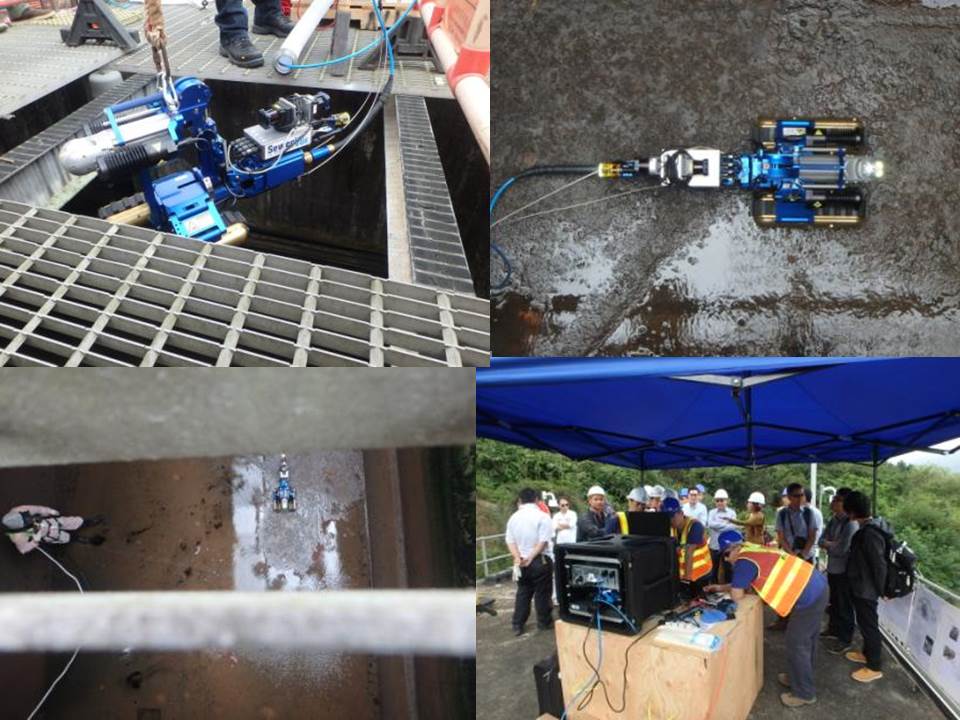 SewerVUE travelled to Hong Kong to inspect a 7km long sewer tunnel in Hong Kong. The tunnel, a 10-foot diameter reinforced concrete tunnel, had been in service for 15 years and had never been inspected. The objective was to assess the condition of the tunnel using a combination of CCTV and LiDAR. Though it was a long day, SewerVUE completed the inspection in a single day, on budget. The results showed only a small number of structural defects.
In large diameter pipes such as this one, CCTV is not particularly useful. However, combined with other sensor technologies, we delivered a detailed report outlining the structural and service defects in the Tolo Harbor TEES Tunnel.
#3: Multi-location Deployment - Paris, France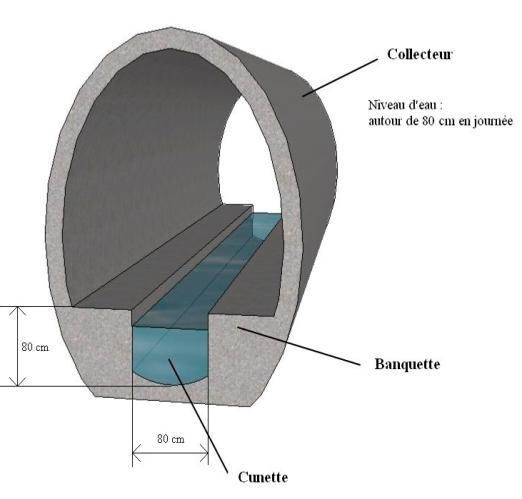 Three different locations were surveyed by SewerVUE in Paris, France. The pipes surveyed across these three locations totalled 19,600 feet in length. Among the challenges faced was the 3600 feet of horseshoe-shaped 9ft. sewer in Boulogne-Billancourt. SewerVUE used a new software to deal with this unique pipe, delivering a report on sediment depth and volume, as well as a CCTV report.
The Paris project dealt with pipes ranging from 58" up to 9ft. of various shapes. Three sites in three municipalities were surveyed over the course of two weeks. Thanks to good communication and a cooperative client, SewerVUE delivered a report on time and on budget.
Learn More
SewerVUE Technology's MSI platforms are capable of surveying a wide variety of pipeline sizes and types. The technology is extremely versatile, and SewerVUE has experience deploying it in many different types of locations, all over the world. To learn how SewerVUE can help you, contact us today!