Penstock Condition Assessment with State of the Art Technology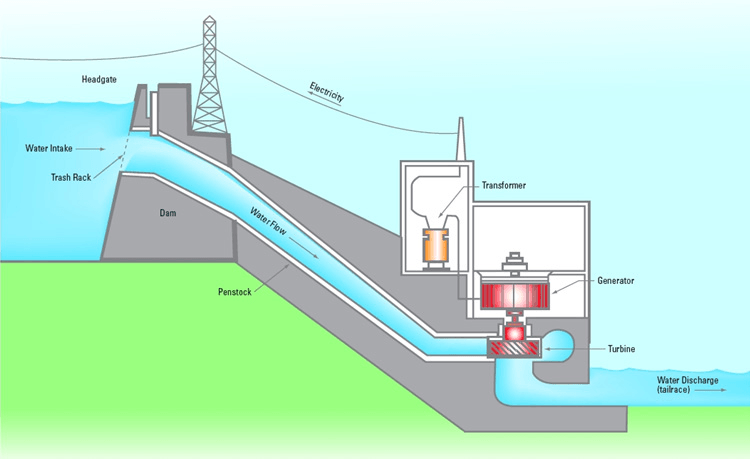 Penstocks are essentially a floodgate for regulating flow for a body water. Inspecting penstocks are essential to ensure the pipes are in condition.
SewerVUE's multi-sensor inspection platforms can be deployed in pipes of different sizes and compositions. SewerVUE can deliver accurate condition assessments for penstock inspections using multiple state of the art surveying technologies.
Our versatile multi-sensor inspection system can be deployed on an MPIS Float, or SewerVUE's remotely operated Surveyor robot, depending on the flow inside the pipe. These platforms have a range of 2000 meters (6000ft), reducing the dependence on convenient access. These surveying techniques allow for long stretches of pipe to be assessed while eliminating the potential dangers of man entry.
Multi-Sensor Technology
The most commonly deployed ROV is the SewerVUE Surveyor. The surveyor carries two PPR antennae that can be adjusted to collect data from any two clock positions between 9 and 3 o'clock. In a typical survey, lines of data are collected from two clock positions as the robot moves in one direction, and two different positions as the robot returns to the deployment point. This results in four lines of PPR data with just one deployment. The PPR antennae on the Surveyor transmit at 1.6 GHz or 2.3 GHz frequencies, which results in signal penetration depth of up to 920 mm.
SewerVUE deploys four sensors to collect data: high-definition CCTV cameras, millimeter-accuracy LiDAR, sonar, and SewerVUE's own Pipe Penetrating Radar (PPR) technology. Data from any combination of the four sensors can be aggregated into a unique 4-in-1 viewer using our proprietary software. The data provided by SewerVUE will detail the length, width, and depth of any and every defect found inside a penstock. Our methods will deliver accurate, fast, cost-effective results.
Penstock Assessment Projects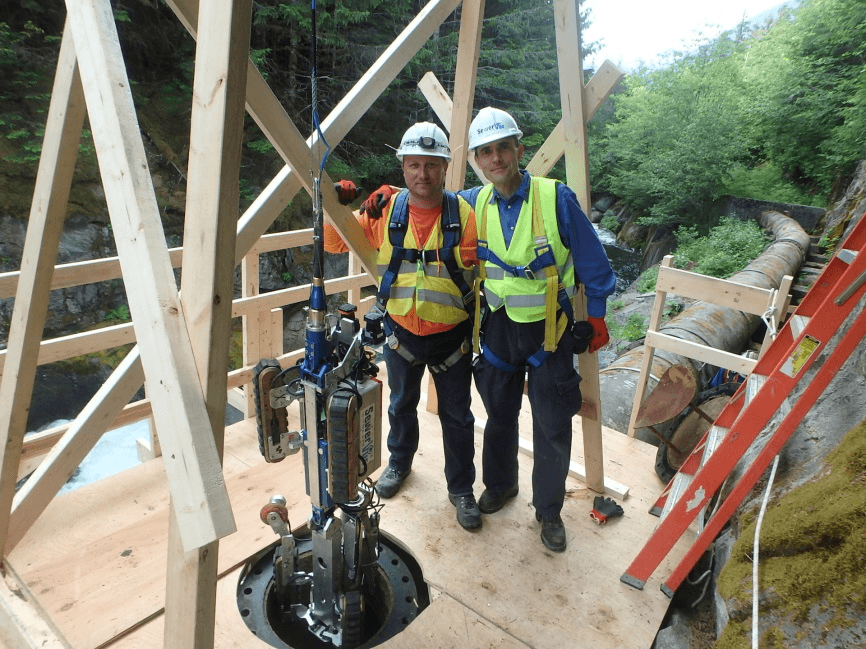 SewerVUE Technology was hired to survey 585 meters of pipe at Clayton Falls Penstock in Bella Coola, BC. For this project, the Surveyor robot was used to capture CCTV footage and LiDAR data. Surveying was done over the course of two days. Data was collected from 3 separate pipe sections, using 2 separate deployments each from the same access point. Upon analysis of the data, SewerVUE identified a number of defects in the longest section of pipe, while the other 2 sections came up clean.
The same technology was deployed to inspect two different sizes of pipeline at the Bridge River Generating Site near Lillooet, BC. First, 350 meters of 375mm CSP was surveyed using the high definition CCTV camera. Then, the Surveyor robot was used to gather CCTV and LiDAR data from 250 meters of 600mm pipe. The data collection took just one day, and was done via two deployments from two different sites. The data showed a number of defects across each section of pipe that was surveyed, which allowed the client to make informed decisions about what, if any, maintenance was required.
SewerVUE Technology
SewerVUE can tackle big jobs in some of the toughest places on Earth, and get actionable data quickly. Our methods are both accurate and cost-effective. By using remotely operated vehicles to gather data, these methods also eliminate the hazards of man entry surveying methods.
To discuss how SewerVUE can meet your specific needs, contact us today!