Void Detection with PPR Technology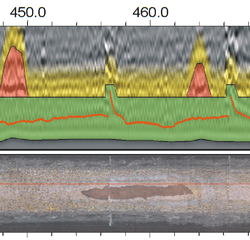 SewerVUE is dedicated to providing you with cutting-edge solutions for pipeline integrity and maintenance. Our Pipe Penetrating Radar (PPR) services are your answer to the proactive detection and analysis of critical underground infrastructure concerns. With PPR, we bring clarity to the subterranean world, revealing vital insights that safeguard your pipelines and the surrounding environment.
See beyond the walls and locate voids forming outside your pipes with PPR. Catch voids before they become sinkholes! Don't wait until costly disaster strikes. SewerVUE's patented PPR technology enables you to identify and pinpoint voids in the soil, safeguarding against potential sinkholes and structural damage. We take a proactive approach to protect your pipelines and investments.
Detect pockets of fluid after pipe bursting projects. Our PPR services go beyond the pipe's surface. We provide comprehensive soil stability analysis, allowing you to identify pockets of fluid and potential ground shifts following pipe-bursting operations. This invaluable insight ensures the long-term stability of your infrastructure.
Determine grout coverage behind a post-rehabilitated pipe with PPR. For post-rehabilitated pipelines, our PPR technology offers a meticulous examination of grout coverage. This analysis provides critical information to ensure the structural integrity of the pipe, facilitating informed decision-making and proactive maintenance.
What Is PPR?
Pipe Penetrating Radar (PPR) is an electromagnetic technique that accurately maps reinforcement location, pipe wall thickness, and classifies voids outside of non-ferrous pipes. PPR can also identify grout placement between pipe renewal systems and host pipes, liner bonding, and in-situ conditions, including exterior repair clamps and soil variations for pipe-bursting replacement operations.
SewerVUE Technology
SewerVUE can tackle big jobs in some of the toughest places on Earth, and get actionable data quickly. Our methods are both accurate and cost-effective. By using remotely operated vehicles to gather data, these methods also eliminate the hazards of man entry surveying methods.
To discuss how SewerVUE can meet your specific needs, contact us today!